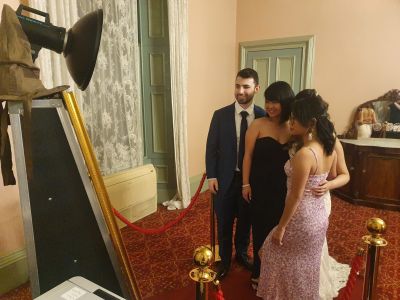 Want To Make Your Wedding Fun? Here Are Some Tips On Mirror Photo Booth Melbourne & Dandenong Ranges
Tips To Make Your Mirror Photo Booth Melbourne & Dandenong Ranges Fun 
One of the most popular fun things about wedding receptions is photography. Your friends and family will love to take pictures, and there is usually always a photographer on hand to take picture shots of everybody who has an amazing time at the reception, and of course the newly married couple. Very often, the pictures taken by the couple themself are never seen because other guests took them. However, hiring a mirror photo booth Melbourne & Dandenong Ranges can make a big difference.
If you would like to rent a photo booth Melbourne for your wedding or event, then go online to look up Matt Jefferies Entertainment. We at Matt Jefferies Entertainment have provided photo booths to hundreds of happy couples for weddings, and we have entertained their friends and family at the photo booth Yarra Valley and given them memories that will last a lifetime. We will come and set up everything in the right place, so you do not have to worry about anything except having fun. Also, We hand an attendant at the photo booth during the wedding or event to ensure that nothing will or can go wrong and that the photo booth works well at all times while guests enjoy and have fun. Your friends and family will love the concept of a mirror photo booth Lilydale and appreciate the chance to join in and if they can also use fun props too. Our props are fun and suitable for everyone at your wedding or event.
Your family and friends can participate at any time they wish if you hire our photo booth in Melbourne. We have roaming, mirror and magnet photo booths. Open can fit as many as 18 people.
As mentioned earlier, some cute photo booth props can also be used, such as themed sunglasses, creative signs, horses masks and more that look stupid. All this works well together so that your wedding pictures are full of life, fun and originality, rather than the usual formal, annoying, so often perceived types of pictures.
Tips To Pick The Best Mirror Photo Booth Melbourne & Dandenong Ranges 
Your wedding reception is the most wonderful time of your entire life together as a married couple. This day is best for taking great photos of you & your partner. If you would like to take amazing pictures on your big day, it is a smart idea to hire a good photo booth from a professional business. On the wedding day, you get loads of photos from everybody. Here are some very helpful tips on how to help you pick the best mirror photo booth Yarra Valley.
Photo quality
About photo quality, we offer the best photo booth printouts with quality in the photo booth industry. In the other way, the other type of photo booths uses DSLR cameras to make professional-quality images. A professional flash is used for lighting. That is why the quality of the photo is the highest it can be.
Enclosed vs. Open-air booths
Your friends and family must enter into an enclosed photo booth. We do not offer enclosed photo booths, ours are simple and user-friendly. They are always used at weddings, corporate events and shopping malls. This standard is autonomous and looks really clean in the venue or shop front. We supply both open and roaming. Enclosed take up way more space & can only fit limited guests and is best for large spaces but open is light, portable and can fit anywhere you like in the venue. As for roaming booths, they travel all around interacting with guests. The roaming type can easily be transported outside too. So you can now pick the best one based on what you need.
Backdrops
We offer a big range of backdrops to choose from with many styles to fit your wedding theme. Our aim is to make your wedding fun but also the photos look amazing with your theme incorporated into the pictures.
Size
Closed photo booths do not have much room inside. So, if there are many guests, they may not fit in the booth and not have everyone in the photo. On the other hand, the modern type of open photo booths offers you the chance to fit everyone in one photo.
Location Of The Booth
Make sure there is room for the setup of the photo booth. To give you an overview, most stands need a surface of 3×3 meters. This is why it is very important to pick a location where the thing can be set up. So picking the right place is critical.
Ten Reasons Why You Should go with Matt Jefferies Entertainment at Your Wedding Reception.
It is very exciting! For the money it costs to hire our mirror photo booth Melbourne, nothing brings more enthusiasm to your unforgettable special day. Not even spending the same if not more money on a more attractive venue or alcohol. Matt Jefferies Entertainment will keep all of your friends and family smiling and having fun no matter if they are young or old.

It's the best icebreaker! Give your friends and family something to discuss while you are off with taking photos in between the ceremony & reception.

Family Reunion! Melbourne Photo booths are the most awesome way to make memories with family and friends that live out of Melbourne and do not usually get to see much of each other. Family members that have not to meet each other for a very long time will be eager to take pictures of themselves together. Who knows when their next meet up will be?

Memories that last for a Lifetime! You are capturing permanent memories and not just posed pictures. These are real spontaneous pictures, sometimes memorable and sometimes hilarious ones too.

The best wedding Favor! Your friends and family will have the ultimate memory of the wedding reception. How many wedding favours do you post on your kitchen fridge? These are valued wedding favours! Memory for your friends and family from the special wedding day.

Make Everybody Jealous! OK, I do not promote rubbing anything in anybody's face, but come on, for those who were not able to make it to your wedding day, once they see your photos, they will wish they had attended your special day.

Customize your photo layout! We can customize the picture 4×6 print with a logo or graphic, theme or colours for your wedding day photos.

The Knot wedding website Says So! Photo booths are the #1 entertainment source along with wedding DJ's for a wedding reception. As stated by The Knot wedding website, at every wedding venue, photo booths are a "must-have"

Social interaction! Your wedding day may last weeks after the fact by comments on our Social pages, check out our website for the online gallery of your photos from our photo booth.

We give you the option to add a roamer photo booth to each package. Our roamer is good for the cocktail hour and can also roam around the wedding venue taking photos of people who may not come up and get a photo.
Tips To Make The Wedding Photo Booth Lot's Of Fun
A photo booth in Melbourne is a beautiful item to hire for your wedding reception entertainment. This will help to keep your friends and family free, let them do an activity when they need a break from the dancing and leave them a sweet memory of the awesome evening.
As far as the wedding reception is concerned, photo booths are still really popular, mainly because they are just right for couples who want to make sure every guest has a blast. You do not need a big enclosed booth or extra material to make the complete photo booth for the wedding. With our mirror photo booth, it can fit into small spaces or with a little more room have a backdrop. With the below tips, we show you how to have an amazing photo booth experience that will encourage your family and friends to take pictures of funny poses and have even more fun at your reception. Have Guests Upload Your Photos To Their Social Accounts InstantlyMost businesses with photo booths upload your images to their online secure photo gallery at no additional cost. This means that with the password and link, guests can easily access their pictures without having to worry about the CD / USB later.
How To Incorporate A Photo Booth Into The Wedding Fun
Photo Booths in Melbourne is the best trend for wedding receptions, and once you have attended a wedding, you know why. They offer hours of entertainment for young to old, and at the end of the evening, your family and friends leave with unique memories of your wedding reception that they will remember forever.
Once you have chosen to work with a good supplier, it is time to decide how you would like to integrate the photo booth into the wedding. Do you want it to be an awesome addition to the entertainment for the evening or do you want it for when guests are mingling and waiting for their food to hit the table?
Conclusion
So, if you are going to hire a mirror photo booth Melbourne & Dandenong Ranges for your wedding reception, we advise you to follow the amazing tips & tricks in this b log. This will help you to not make the wrong choice.
Hire a photo booth in Melbourne and surrounds for your wedding reception which is a fun idea, besides they can be rented for any party, corporate event or special occasion too. They will provide laughter, fun, and a keepsake of the wedding or event that is unique. The above information in this blog will help to get you started on the hunt for an event or wedding photo booth. Depending on the number of friends and family at your big celebration, you may need to have more than one photo booth set up, so your friends and family do not have to wait too long for a turn.
Matt Jefferies Entertainment will provide you & your guests with hours of entertainment and an awesome keepsake. Your family and friends will take about the fun they had at your wedding or event and have great photos to prove it! Visit our website for more information – Click here or here