How To Get The Most Out Of Your Yarra Valley Photo Booth
Hiring a Yarra Valley photo booth for your corporate event, Christmas party, school formal or wedding reception is a great way to keep guests entertained throughout the night. Guests will enjoy the fun and head over to the photo booth in between meals as well as when it is time to dance. You can use the photo as a wedding present to guests or for other events like Christmas parties when it can used as the Christmas present. You can have your guests stick a copy into the guest book and write a nice message or if they prefer that can opt to keep the photos for you and your guests. Below are so tips on how to get the most out of you photo booth hire Yarra Valley.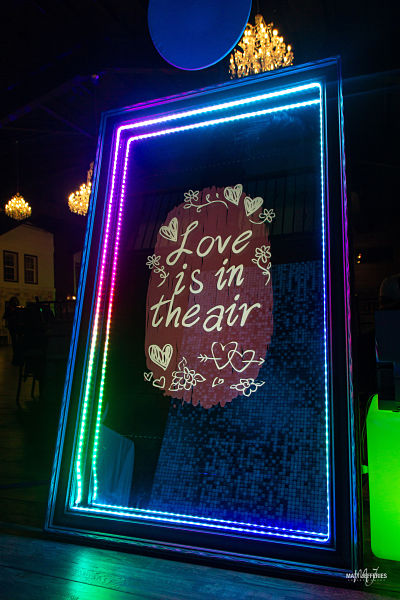 Don't Forget To Use It Yourself
We see this all the time, but so many couples are too busy talking to family and friends that they forget to taste the food and get a photo in the photo booth. Allow time to get a few photos in the mirror photo booth Yarra Valley. We will clear all the guests out to make room for you as we know how busy you will be on your wedding day. If we notice that you have not used the photo booth, we will give you a reminder towards the end of the night. We do love to stick photos of the happy couple taking photos on the front page of your guest book.
Decorate Your Photo Booth Hire Yarra Valley
Your Yarra Valley photo booth will be one of the focus points of your wedding and you do not want to have a large photo booth with a red curtain or a blow-up photo booth sticking out and looking add. This is where the mirror photo booth can come in handy because you have options to style it but choosing the style of frame you want. We have a number of options including our gold frame which comes with gold bollards and red carpet, our black frame, our wooden frame which comes with a white picket fence and green grass carpet or our rustic frame which comes with the white picket fence and green grass carpet.

We also give you the option to style it with different backdrops or simply have no backdrop at all. We can remove the red carper or green carpet or even the gold bollards or white picket fence if requested to do so. Our rustic frame comes with fake flowers on the left side of the frame but you are welcome to use some real flowers if you wish to do so.
Collect Photos In A Photo Book
Having a good mirror photo booth Melbourne business take care of your photo entertainment for your event will mean that they provide photo books free with every hire. Guest books are great for collecting those priceless memories of your treasured event. Guests are encouraged to stick a copy of the photo in the book and write a message beside it to be looked at and read after the event is finished.
Hire A Photo Booth Yarra Valley Attendant
Many mirror photo booths Melbourne comes complete with a 'booth attendant' that will make sure everything runs perfectly over the course of the event and will explain what to do to your friends and family. If your booth doesn't have an attendant, consider looking around for a company that provides one as you never know if the paper and ink need changing or the photo booth freezes and needs to be restarted. It also is a good idea to have an attendant because they will encourage guests to get in photos and guide them through to photo process.
Time It Right
It is important to know the best time to have your photo booth. While some have it during the cocktail hour and then 4 more hours after, others choose to hire it from the start of the reception to the finish. Often photo booth companies do extra hours for a small fee. Some photo booth businesses offer 1 or 2 or 3-hour packages but take it from us, we do lot's of photo booth events a year and we are always busy for most of, if not the whole night.
Get The Pictures Uploaded To An Online Gallery
Some photo booth businesses will give you a USB after the wedding is finished. We prefer to instead upload them the next day to our online gallery which is password-protected so that you can download them anytime anywhere as many times as you like. A USB stick can get lost and if you lose it you have lost all those memories for forever. We also keep a backup of the photos on a hard drive so if something goes wrong and you were to ring us years later we can upload them again to the online gallery for you to download.
Encourage Group Photos
A single guest doing a photo by themself may not have as much fun as a group of mates having a photo where they all pile into one big photo. Group photos can bring with it lots of laughs and good times. A photo booth Melbourne operator will encourage more than one person in a photo. The amount of fun and the poses guest will come up are endless.
Use Augmented Reality Photos
Augmented reality is the next big thing in wedding photo booths Yarra Valley. The mirror photo booth can do augmented reality photos with undead celebrities and other themed characters. You get the option of doing the normal 3 photo preset or a super cool augmented reality photo with a character of your choice. You get three photos and the chance to sign your name on the photo layout. Before hiring a mirror photo booth check with the business to see if they offer this experience as most mirror photo booth business does not offer this.
Provide Props & Virtual Props
Giving your guests some fun props such as funny signs, themed props or comedy glasses can produce hilarious results. Some couples will even want to setup up a backdrop with props and scenery items. Ask your photo booth company what they provide and how they can help you best to achieve your desired goal. The mirror photo booth Yarra Valley can also have virtual props which is a feature where you can choose between props, change the size of the props and put them into position on the photo as if you are wearing those props.
Blog is written by Photo Booth Melbourne